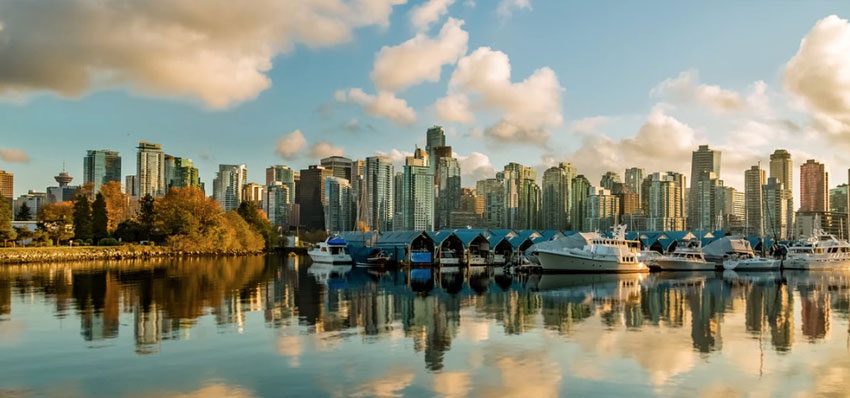 Moving to Vancouver?
Vancouver is a true urban paradise with something to offer for everyone and anyone. With beaches, seawalls, mountains, nature, and something to do in every corner of the city, there is most likely something you are bound to love about this place. But like many things in life, there is a major catch, and for Vancouver, it would be the shockingly high cost of living. This is because there is a huge demand for housing in this city, driving up the prices for both buying homes and rent. But if you have the means to afford to live in Vancouver, it's well worth the high price. Economy-wise, Vancouver has evolved uniquely in the past couple of years. Being an increasingly major hub for those in the tech industry, the city has often been referred to as the "Silicon Valley of the North". Additionally, the Film & TV industry has also been booming in the city and many are referring to Vancouver as the "Hollywood North" in recent years. Truly, Vancouver has the perfect blend of nature, urban convenience, solid jobs with work-life balance, and fun. 
Who lives in Vancouver?
You can find people of all cultures in Vancouver as it is highly diverse and welcoming of people from around the world including immigrants and refugees. To give you a clear picture of how international this city is – over half of the population here can speak multiple languages. Blessed with the forest, ocean, and mountains, the city also attracts a lot of outdoor lovers. Most locals (aka "Vancouverites")  also like to stay active and are passionate about health, fitness, and outdoor activities. And when it comes to socio-political matters, Vancouverites are known to be progressive and active. But, there is a huge financial divide between the rich and poorest here, many of whom struggle with homelessness and reside in the Vancouver Downtown Eastside. 
What's Vancouver's culture?
Locals living in Vancouver are all about maintaining a work-life balance. Vancouverites work hard, but they also play hard and like to enjoy what life in the city has to offer. The locals here like including activities into their schedule that promotes healthy living and fitness, being with nature, plus connecting with friends and families. With everything in such close proximity, it's also easy to enjoy the city during the weekdays. It can be as simple as having a quick picnic at Kitsilano beach to trying out a new cuisine with loved ones in the evenings. Adventurous at heart, many locals in the city love to hit up the mountains to hike during the Summer or ski and snowboard in the Winter. There's something for everyone in this city! 

 
What is Vancouver's housing market? 
If there's one thing you consistently hear about Vancouver is that the housing market here is not ideal. And unfortunately, what you hear is true. Vancouver has been battling a housing crisis over the past decade and it only seems to get worse. Although the city has introduced new regulations on offshore ownership and short-term rentals to help combat the crisis, housing continues to be expensive and difficult to afford for the average family. Despite this, not all hope is lost. If you give yourself enough time to look for units or consider moving in with roommates, it will be worth it! 
Tips for apartment hunting in Vancouver
We'll say it again, but housing prices are an issue across the board in Vancouver whether you're trying to buy or rent. If you're looking for a cheap rental, it's not going to be easy to find something like that in Vancouver. You'd have to most likely settle for student housing or share a place with someone in a rough neighbourhood. Even then, you most likely won't be able to find anything for less than $1,000. On the other hand, if you have the financial means, you will have a diverse range of choices to choose from. Places with amenities tend to be more expensive and most apartments are pet-friendly!
Something you should know:
Consider hiring a real estate agent to help you navigate through the challenges of finding a place in Vancouver. Agents will have all the latest information that can help you land a good deal, and may even have connections to help you find places that haven't been put on the market yet. 
Getting around in Vancouver 
One of Vancouver's most popular landmarks and tourist attractions would be Stanley Park. There is much to do in Stanley Park. From visiting the Vancouver Aquarium to biking, roller skating, or taking a stroll along the scenic Stanley Park Seawall, which is the world's longest uninterrupted waterfront path. Furthermore, you can most likely find all sorts of outdoor sports and activities around the city and surrounding areas. And if you're not a huge nature or outdoors person - don't fret! Each neighbourhood in Vancouver holds its own charm. From visiting the Kitsilano Farmers Market, relaxing on the buzzing outdoor terraces of Yaletown, exploring Gastown – a popular Hollywood shooting location, or even relaxing by the waters at Granville Island, there is so much to do! There's also a diverse range of private and public schools in Vancouver, including UBC, BCIT, Emily Carr, and Simon Fraser. Check out their art galleries – they are spectacular! Finally, for all the foodies, seafood is a local speciality in Vancouver. That being said, you'll be able to find all sorts of cuisines and amazing restaurant options in the city.
Vancouver points of interest:
Stanley Park
Granville Island
Vancouver Aquarium
Vancouver City Hall
Brockton Point Totem Pole
Waterfront Station
A-maze-ing Laughter
Library Square
Vancouver Lookout
Lions Gate Bridge
Gastown Steam Clock
Robson Street
Chinatown
Popular Searches in Vancouver