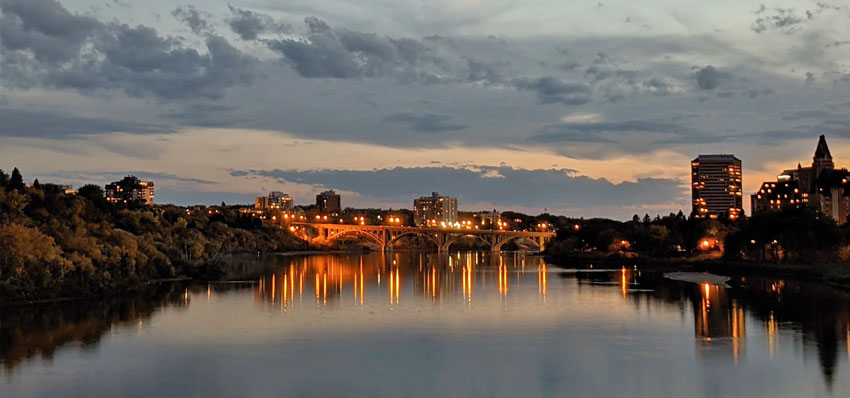 Moving to Saskatoon?
Saskatoon, named after a local berry and commonly known as "Paris of the Prairies" is a city on the rise. This city has experienced a huge population boom which isn't expected to slow down anytime soon. However, despite being a young and lively city, Saskatoon still has deep roots and serves as a hub for Indigenous communities, who have inhabited this area for over 6,000 years. In fact, tools and rings are still being discovered nearby the Wanuskewin Heritage Park. Combined with its strong roots, Saskatoon is developing its youthful population behind the scenes and looking into the future. Fun fact: Saskatoon is called the coffee capital of Canada. 
Who lives in Saskatoon?
While most of the population in Canada is aging, Saskatoon is the opposite. The city's population is getting younger, with the average now being people in their mid-30s and a huge chunk of locals in their 20s and early 30s. Understandably, most people in Saskatoon are single or are single parents, so if you're a single parent, this is a great city to meet others just like you! You'll find that there's a lot of childcare support here, and plenty of other single parents who understand what you're going through. Lastly, this area has a significant Indigenous population. 
What's Saskatoon's culture?
Saskatoon is often overlooked and doesn't get much attention – but over the years, this city has blossomed into a cool, young, and hip place. If there's one word to describe Saskatoon - it's that the city is humble! It never tried to claim to be something it's not, but instead, it has turned itself into a trendy spot for young people. Today, it has become every foodie's dream and turned into an indie coffee community. There's also a huge population of millennials starting their lives and careers here – with no shortage of support for them! 
What is Saskatoon's housing market? 
If you're looking for a deal in a major Canadian city, then Saskatoon is the place for you. The prices in this city are significantly lower than in other major Canadian cities. Plus, because of how flooded the housing market is right now, there are so many options to find the perfect place right now at the right price. Remember to act quickly if you find something you like, or other people might just take it. 
Tips for apartment hunting in Saskatoon
If you're searching for places to rent in Saskatoon, you will most likely find a rental – whether that be apartments or houses that are affordable! In addition, most landlords here are trying to get their places rented out and woo renters, which means that amenities like pools, yards, dishwashers, and laundry are often included or offered. For the students out there, you won't have trouble finding housing as well. There are plenty of places around the university and because it's a renter's market in Saskatoon, you can sometimes negotiate a fair price!
Getting around in Saskatoon  
As Canada's coffee capital, you will find a whole bunch of local coffee shops and restaurants as well as mainstream places. This town has ultimate hipster vibes and locals like shopping at the Saskatoon Farmers' Market for fresh and organic produce before heading to Berry Barn for some Saskatoon berry pie. For the outdoor lovers, hit up a local favourite – the Wanuskewin Heritage Park! If you don't mind making a further trek, try mountain biking at the Blackstrap Provincial Park. And if you're into music, there is great evening entertainment at a local jazz club called the Bassment. 
Saskatoon points of interest:
Wanuskewin Heritage Park
Remai Modern
Meewasin Valley
Western Development Museum
Ukrainian Museum
Beaver Creek Conservation Area
Forestry Farm Park and Zoo
The Prairie Lily
The Strawberry Ranch
The Marr Residence
St. John's Anglican Cathedral
Aka Gallery
Popular Searches in Saskatoon