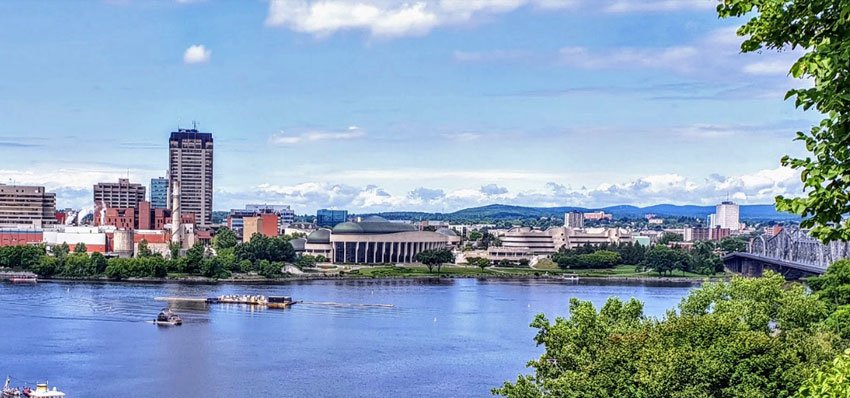 Moving to Ottawa?
Ottawa is Canada's capital and the fourth-largest urban region in the country. This city is often named "the best place to live in Canada" and is known for being an international hub for learning about arts, culture and education. The unemployment rates are low, and the standard of living is high for locals in this city. What's even better is that Ottawa accommodates people with different preferences. With the perfect mix of urban, suburban, and small-town, anyone can feel at home in this city. This may come as a surprise for some, but the majority of people in this city are bilingual and fluent in both English and French. If you're not bilingual in these two languages, it can be hard to find any sort of job here. 
Who lives in Ottawa?
Home to almost 1.5 million people, Ottawa is made up of three major population groups. 
The first group are students. Major schools located in the heart of Ottawa like the University of Ottawa and Carleton attract students from all over the country and internationally to the city every year. The majority of this group are in their 20s, single, and enjoy Ottawa's nightlife and affordable food options with their limited disposable income. 
The second group are families. Most commonly found in Ottawa are families with 1 or 2 young children. However, there are larger families with all age groups too – including Justin Trudeau's family of five (including him and his wife)! Finally, the third major population group in the city are older Canadians. This group is mostly made up of retirees and empty nesters. These older Canadians have a lot of disposable income and enjoy the fancy things around town - including fine dining, fine art, and fancy wine!  

In summary, Ottawa is great for students, families and retirees who speak both French & English and not-so-great for those who aren't fluent in both French & English. 
What's Ottawa's culture?
Being Canada's capital city, Ottawa is political in nature. This means there's a lot of money and power in the city, and everything revolves around politics. The locals who are involved in this scene enjoys learning about different cultures. They enjoy activities like visiting the National Gallery of Canada or the National Arts Centre or fine dining at the city's best restaurants. 
Although Ottawa is political by nature, it is anything but boring in this city. Because Ottawa is also a university town, the city has buzzing nightlife. You can find a number of restaurants and clubs, especially in the ByWard Market area that opens up until late-night. 

And for the locals who don't identify as a student or is into the political scene, they are still able to appreciate the small-town vibes of Ottawa. This can include visiting the different museums and galleries over the weekend, shopping at the ByWard Market, and even skating on the canal during the winter. Additionally, many locals take advantage of the cities close proximity to Gatineau, Quebec and will often head over there for dinner or a weekend getaway. The only downside is that as a local, you'll have to deal with large crowds of tourists especially during vacation season in the Summer. 
What is Ottawa's housing market? 
Ottawa has always been known to have more affordable homes compared to most major cities. However, over the years, prices on homes have been changing. Today, there is a shortage of housing in the city which has caused bidding wars for buyers and increasingly expensive prices for renters. If you're looking for more affordable options, you may want to look outside Ottawa if you're running into problems looking for a place in the city. 
 

Tips for apartment hunting in Ottawa
What's great about looking for an apartment in Ottawa is the diverse range of rental options you can choose from. You can expect to find everything from high-rise and downtown condos, charming homes, to affordable housing close to Ottawa's universities for students. Even better, most options will also have a dishwasher, pool, yard, and laundry onsite. If you're a student, you'll also find that most student-oriented housing will have utilities included. So really, all you need to do is decide what you are looking for and what neighbourhoods you want to set your roots in via your favourite rental website! (*wink wink*)
Something you should know:
When we said you need to be bilingual to flourish in Ottawa, we meant it! This doesn't mean just being able to know how to carry a basic conversation in French, but most jobs in Ottawa requires functional fluency. Some employers will even interview you in both languages to test your fluency - including even entry-level jobs like retail. For government positions, you definitely need to be truly fluent in both French and English. 
Getting around in Ottawa 
It's hard to get bored in this city as you can find an abundance of things to do especially in Parliament Hill, which is Ottawa's central hub. You will find that there are two primary shopping areas nearby Parliament Hill: the Rideau Centre and Sparks Street. If you're looking for food options, definitely visit the ByWard market during the day. And for dining and nightlife, head back to Parliament Hill for that. 

In addition to the famous Rideau Canal, there are also a number of parks to visit in the city if you enjoy nature. And if you like theatre and arts, we recommend checking out the National Arts Centre and the National Gallery of Canada. Visit Wellington West if you're seeking the trendy neighbourhood vibe, or head over to The Glebe for a more classic hip Ottawa life. When all else fails, consider paying Quebec a visit! 

Ottawa points of interest:
Parliament Hill
Canadian Museum of History
Peace Tower
Notre Dame Basilica
ByWard Market
National Gallery of Canada
National Arts Centre
Canadian War Museum
Laurier House National Historic Site
Rideau Hall
Ottawa Locks
Dows Lake Pavilion
Watson's Mill
Royal Canadian Mint
Supreme Court of Canada
Famous Five Monument
National War Memorial
Peacekeeping Monument
Canadian Tribute to Human Rights