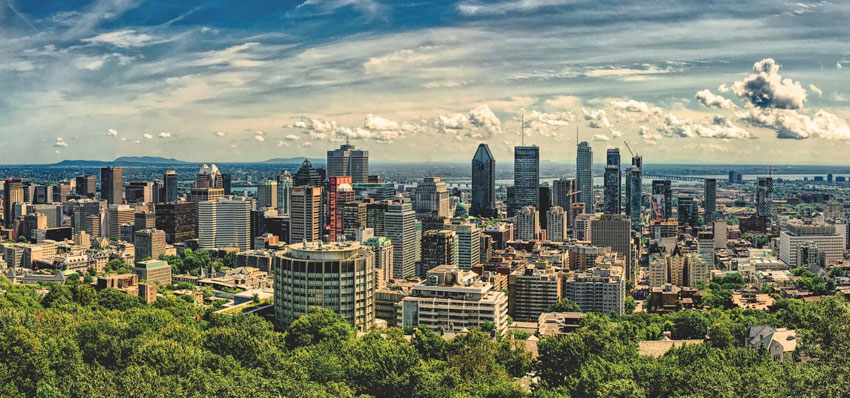 Moving to Montreal?
Besides the fact that Montreal is the second-largest French-speaking city in the world after Paris, it's also quite unique compared to other major cities in Canada due to the fact that Quebec's official language is French. And Montreal is the biggest city in Quebec! If there's a vibe to Montreal, it would be that it's definitely a student city. Montreal has a huge population of young adults and students as there are lots of great universities in Montreal, such as McGill and Concordia which are both located right in the heart of the city. Because there's so many schools around, nightlife here is always bustling.  
 
Who lives in Montreal?
Montreal's demographics are mostly made up of those who are of European origins like French, Italian, Irish, and English. However, there's also a big chunk of Montreal's population belonging to a visible minority. And the city is only getting more diverse as time goes on. There's also a significant population of young adults here because of all the great schools in the city. You'll also find a balanced mix of singles and married couples in Montreal. And although the most commonly spoken language here is French, most locals in the city will know how to speak both French & English fluently. Although French is the preferred language here, most locals will still be able to understand you if you need help in English! 
What's Montreal's culture?
Montreal is a great city that has everything you need to live life to the fullest. There's a bit of everything to do here and while Winters are cold and brutal, Summers in Montreal will make up for it. Locals like to fill up their Summer by attending festivals and lots of fun activities. Plus, Montreal is a very European-inspired city, so there's a huge focus on enjoying life, trying new foods, and having drinks with friends. 
Although locals work hard here to make an earning, they work to live, and not live to work.  So, if you're the type that likes the hustle and bustle, the city might not be for you. But if you like enjoying the simple things in life, definitely consider Montreal! 
 
What is Montreal's housing market? 
Montreal's housing market has been on a rise however compared to major cities in Canada like Toronto and Vancouver, Montreal's housing market has remained relatively stable. Condos are becoming increasingly popular in the city, while detached homes have been experiencing a decrease in demand over the past few years. Listings have also dropped due to the Covid-19 pandemic. Even though the housing market is rising in the city, most houses are still affordable compared to the other major Canadian cities. 
Tips for apartment hunting in Montreal
The majority of Montreal's renters are either international students or students from elsewhere in Canada. That's why Montreal has been experiencing an increase in vacancy rate since the pandemic started and schools were shut down. This is good news if you're planning to look for a place here as you'll have more options but demand is expected to increase again in the future, so be quick on your toes if you find an option you like! 
Something you should know: 
Montreal is a fairly safe city, however, we still advise you to do your research in the different neighbourhoods before you make any decisions! 
Getting around in Montreal 
With so many things to do and food places to try in Montreal, you will not be bored. If you enjoy the culture and the arts, check out the Montreal Museum of Fine Arts, Montreal Museum of Archaeology and History, and Notre-Dame Basilica of Montreal. If you enjoy strolling in green spaces and nature, visit Mount Royal and the Montreal Botanical Garden – you won't be disappointed. For grocery shopping, Jean Talon Market is a local farmers' market that's the go-to for residents of the city. For the foodies, go try out Schwartz smoked meat sandwiches and poutine at La Banquise. During the Summer, pop over to the "Beachclub". 
Montreal points of interest:
Notre-Dame Basilica of Montreal
The Montreal Museum of Fine Arts
Mount Royal
Montreal Botanical Garden
La Ronde
Biodome
Saint Joseph's Oratory of Mount Royal
Montreal Museum of Archaeology and History
Jean Talon Market
 
Popular Searches in Montreal