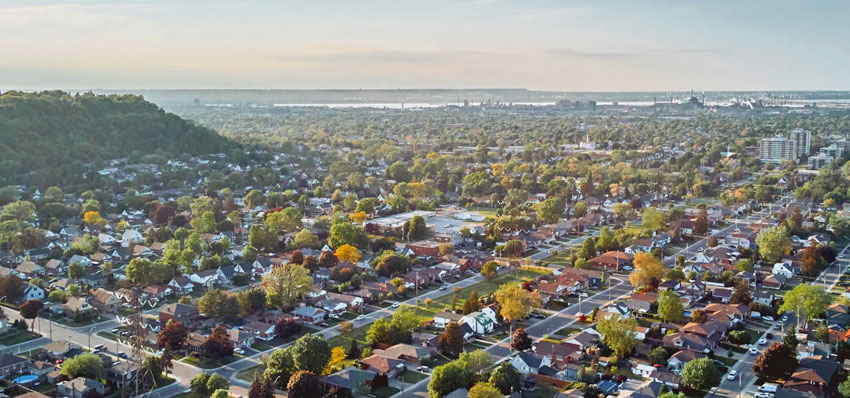 Moving to Hamilton?
Hamilton is notorious for being known as the "armpit of Canada", but over the years, Hamilton has been undergoing a transformative makeover from being a dreadful, plain city to now blossoming into a vibrant city catering to cool, young trendy types who want to purchase a home but can't afford the high prices in Toronto. Plus, Hamilton has become an arts-focused city, with funding for a range of arts-based education programs for students. While Hamilton is still working through its big issues with crime and drug use, it's a city that's moving in the right direction with much to offer. Like any other place you are thinking of moving to, we recommend you do some research. Learn which areas and neighbourhoods are safe and which ones are not.   
Who lives in Hamilton?
As Hamilton is changing, so is the population. You can find two extremes in Hamilton. The first group are older individuals who have grown up and lived in Hamilton either all their lives or for many years. These individuals are likely to be single parents or unmarried. Most Hamiltonians who struggle with homelessness, addiction, or mental health issues most likely come from this circle. The second group are young adults who most likely moved from other urban cities like Toronto. Most folks from this group are planning to start families in the near future, and are often well-educated and most likely work in creative industries. 
What's Hamilton's culture?
Just like the population, there are two distinct lifestyles in Hamilton at the moment. There's one group of locals who are family-oriented. They typically work during the weekdays and then make time to enjoy family outings on the weekends. This group of locals like supporting all sorts of local arts such as theatre, art, and music. On the other side, there is a large group of locals who either work in blue-collar jobs or are unable to find work. These locals are either married without children or single. They enjoy spending time in bars located in the older and rougher areas of town where fights, prostitution, and drug abuse are common occurrences. Unfortunately, others in this group also struggle with addiction or mental health issues. Therefore, it's so important to do your research on what parts of town to avoid – especially in the evenings – if you're considering moving to Hamilton. 
 
What is Hamilton's housing market?  
The housing market in Hamilton has been on a rise in recent years. But, while prices are on the rise, there are often great deals you can find in the area. Plus, there are a lot more availabilities to choose from now so you can take your time to choose the perfect place. Keep in mind that cheaper housing tends to be in the less ideal areas of the city so if being in a low-crime neighbourhood is important for you, it may be worth paying more for the peace of mind! 
Tips for apartment hunting in Hamilton
If you like different options, then Hamilton is THE place for you to go apartment hunting. 
You'll most likely find many different listings including studios, 1-bedrooms, 2-bedrooms, and even 3-bedrooms. However, don't expect it to be cheap. The rental market in Hamilton has been on the rise in the past few years, and it's only getting more competitive. If a low-cost rental is what you're searching for, you'll most likely have to look into renting a basement apartment or in the rougher areas in Hamilton. However, if you can afford it, you'll have no trouble finding a stylish downtown apartment or condo with amenities included. For all the Toronto commuters, we recommend keeping an eye on listings near a bus station – they're a hot commodity, so you'll have to be quick!
Something you should know:
Although Hamilton has been transforming and has a lot to offer, we recommend being cautious and open to learning about the issues in the city. Especially for women, not all parts of town are safe to walk through alone. Safety is more important to some people than others, so ask around and consider visiting Hamilton to get a feel for the city. 
 
Getting around in Hamilton 
There are so many different things to do in Hamilton but arts and culture are the focus here! The arts and culture scene in Hamilton is big, and you won't be bored visiting places like the Art Gallery of Hamilton or visiting the theatres in the area. Another popular cultural site here that is worth visiting would be the Royal Botanical Gardens. In terms of food, there's a diverse choice of cuisines and restaurants to choose from. You can find anything from neighbourhood pubs to fancy Italian restaurants. Many places in this city have also been featured on shows like You Gotta Eat here! 
Nights are also quite lively in Hamilton, and you can pretty much find live music in the downtown core at any night of the week. And if you're into sports, you won't find a shortage of places to grab a beer to watch a game. There's pretty much something to do for everyone in Hamilton including hiking at the Bruce Trail for outdoor lovers, or the Flamboro Speedway for the car fanatics. 
Hamilton points of interest:
Art Gallery of Hamilton
Bruce Trail
Royal Botanical Gardens
Rattlesnake Point
Dundurn Castle
Waterfalls of Hamilton
HMCS Haida National Historic Site
Carnegie Gallery
Cathedral Basilica of Christ the King
Whitehern Historic House and Garden
Stoney Creek Recreation Centre
Flamboro Speedway
Hamilton City Hall
Earls Court Gallery
Popular Searches in Hamilton