Citizen on Jasper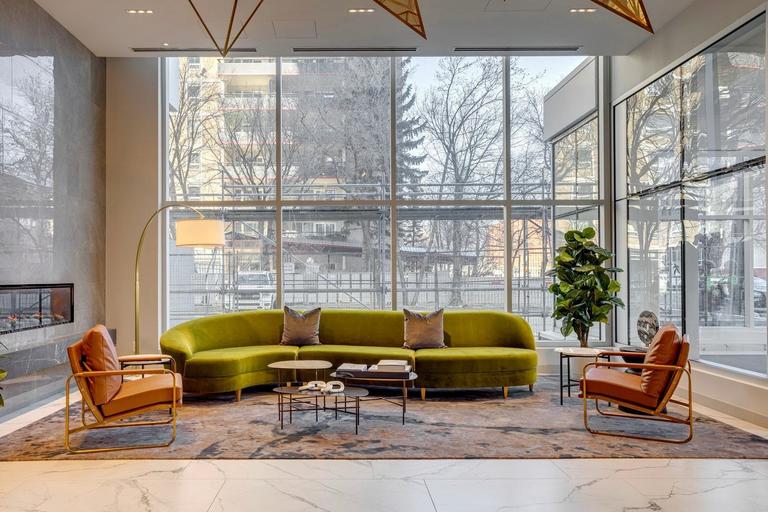 10110 120 STREET NW, Edmonton, AB, T5K 0M5
$1524 - $3267
1 - 2 Bedrooms
Located on Jasper Avenue and 120 Street NW, Citizen is at the heart of Jasper Avenue's independent food, beverage, and retail scene. Walk downtown and to 124 Grand Market's fresh produce stalls and food trucks.
Building Amenities
Grand Lobby
Sky Lounge
Outdoor Hot Tub and Terraces
Multi-Sport Simulator
Media Lounge
State of The Art Gym and Fitness Studio
Guest Suite
Heated Underground Parking
Bike Storage
Smart Parcel Lockers
Level 2 Outdoor Dog Park
Concierge and Security
Demonstration Kitchen
Exclusive Resident Events
Resident Experience Services
Conceirge & Community Manager
24/7 Emergency/Maintenance
In-Suite Maintenance Services
Residents' Events
Building Green
Citizen has been carefully planned, designed, and constructed to minimize environmental impact and optimize the health of our residents: Natural Lighting, Water-Conscious Features, Connectivity, and Clean Air.
Suite Features
ELEVATED INTERIORS
Choice of three contemporary palettes: Morning, Noon and Dusk
Soaring 9' ceilings in main living areas, 10' ceilings on select suites and 11' penthouse ceilings
Generous natural light and breathtaking views
Energy-efficient, privacy-grade roller shade window coverings
Contemporary woodgrain plank flooring throughout
Solid core interior doors for improved acoustics
Suites are pre-wired with high-speed fibre optic wiring to provide Telus fibre and Shaw coax installations
Individual unit-controlled heating and cooling
Individual energy-efficient fan-coil units with advanced air filtration
In-suite laundry—front loading
Large open balconies with each unit
DESIGNER KITCHENS
Premium Whirlpool stainless steel appliances
Smart contemporary range with touchscreen
Microwave with multi-step cooking
Full capacity dishwasher
Sleek refrigerator
Natural stone quartz countertops
Undermount stainless steel sinks
Chrome Kohler pull-down faucet
Contemporary full-height cabinets
Select units include an island with extra storage and eating bar options
ELEGANT BATHROOMS
Quartz countertops with integrated sinks
Shower and soaker tub combination
Built-in medicine cabinet mirrors
Energy-efficient lighting throughout
Porcelain tile on all wet wall surrounds
Rental Information
| Bedrooms | Bathrooms | Size | Rent |
| --- | --- | --- | --- |
| Penthouse N | 2 | 1047 sqft. | $3202 |
| Penthouse I | 1 | 680 sqft. | $2052 |
| Penthouse I | 1 | 680 sqft. | $2117 |
| Penthouse D | 1 | 549 sqft. | $1892 |
| Penthouse E | 1 | 559 sqft. | $2017 |
| Penthouse D | 1 | 549 sqft. | $1957 |
| Penthouse E | 1 | 559 sqft. | $2082 |
| Penthouse N | 2 | 1047 sqft. | $3267 |
| Plan C | 1 | 497 sqft. | $1719 |
| Plan J | 1.5 | 682 sqft. | $1994 |
| Plan J | 1.5 | 682 sqft. | $2009 |
| Plan J | 1.5 | 682 sqft. | $2024 |
| Plan J | 1.5 | 682 sqft. | $1994 |
| Plan J | 1.5 | 682 sqft. | $2024 |
| Plan J | 1.5 | 682 sqft. | $2054 |
| Plan J | 1.5 | 682 sqft. | $2054 |
| Plan J | 1.5 | 682 sqft. | $2069 |
| Plan F.1 | 1 | 589 sqft. | $1884 |
| Plan F.1 | 1 | 589 sqft. | $1894 |
| Plan F | 1 | 580 sqft. | $1849 |
| Plan F.1 | 1 | 589 sqft. | $1909 |
| Plan J | 1.5 | 682 sqft. | $1984 |
| Plan F | 1 | 580 sqft. | $1909 |
| Plan C | 1 | 497 sqft. | $1749 |
| Plan C | 1 | 497 sqft. | $1764 |
| Plan C | 1 | 497 sqft. | $1779 |
| Plan F.1 | 1 | 589 sqft. | $1989 |
| Plan F.1 | 1 | 589 sqft. | $1989 |
| Plan F.1 | 1 | 589 sqft. | $1989 |
| Plan G | 1 | 609 sqft. | $2044 |
| Plan F.1 | 1 | 589 sqft. | $2009 |
| Plan F | 1 | 580 sqft. | $2009 |
| Plan F.1 | 1 | 589 sqft. | $2049 |
| Plan F | 1 | 580 sqft. | $2049 |
| Plan C | 1 | 497 sqft. | $1709 |
| Plan C | 1 | 497 sqft. | $1709 |
| Plan C | 1 | 497 sqft. | $1709 |
| Plan F.1 | 1 | 589 sqft. | $1894 |
| Plan J | 1.5 | 682 sqft. | $2009 |
| Plan J | 1.5 | 682 sqft. | $2009 |
| Plan J | 1.5 | 682 sqft. | $2024 |
| Plan J | 1.5 | 682 sqft. | $2039 |
| Plan J | 1.5 | 682 sqft. | $2039 |
| Plan J | 1.5 | 682 sqft. | $2054 |
| Plan J | 1.5 | 682 sqft. | $2069 |
| Plan J | 1.5 | 682 sqft. | $2069 |
| Plan J | 1.5 | 682 sqft. | $2089 |
| Plan J | 1.5 | 682 sqft. | $2109 |
| Plan J | 1.5 | 682 sqft. | $2149 |
| Plan J | 1.5 | 682 sqft. | $2089 |
| Plan B | 1 | 469 sqft. | $1594 |
| Plan B | 1 | 469 sqft. | $1614 |
| Plan B | 1 | 469 sqft. | $1614 |
| Plan B | 1 | 469 sqft. | $1614 |
| Plan B | 1 | 469 sqft. | $1614 |
| Plan B | 1 | 469 sqft. | $1634 |
| Plan B | 1 | 469 sqft. | $1634 |
| Plan C | 1 | 497 sqft. | $1764 |
| Plan G | 1 | 609 sqft. | $2064 |
| Plan K | 2 | 853 sqft. | $2362 |
| Plan K | 2 | 854 sqft. | $2362 |
| Plan K | 2 | 854 sqft. | $2397 |
| Plan P | 2.5 | 1048 sqft. | $2912 |
| Plan L | 2 | 870 sqft. | $2312 |
| Plan L | 2 | 870 sqft. | $2332 |
| Plan L | 2 | 870 sqft. | $2207 |
| Plan L | 2 | 870 sqft. | $2207 |
| Plan L | 2 | 870 sqft. | $2217 |
| Plan K | 2 | 854 sqft. | $2397 |
| Plan K | 2 | 854 sqft. | $2452 |
| Plan H | 1.5 | 679 sqft. | $2099 |
| Plan H | 1.5 | 679 sqft. | $2024 |
| Plan A | 1 | 469 sqft. | $1614 |
| Plan H | 1.5 | 679 sqft. | $2164 |
| Plan H | 1.5 | 679 sqft. | $2184 |
| Plan H | 1.5 | 679 sqft. | $2224 |
| Plan H | 1.5 | 679 sqft. | $2059 |
| Plan A | 1 | 469 sqft. | $1614 |
| Plan K | 2 | 854 sqft. | $2397 |
| Plan C | 1 | 497 sqft. | $1709 |
| Plan L | 2 | 870 sqft. | $2292 |
| Plan L | 2 | 870 sqft. | $2207 |
| Plan L | 2 | 870 sqft. | $2262 |
| Plan L | 2 | 870 sqft. | $2312 |
| Plan L | 2 | 870 sqft. | $2312 |
| Plan B | 1 | 469 sqft. | $1579 |
| Plan A | 1 | 469 sqft. | $1524 |
Pet Policies
Pet Friendly
Cat Friendly
Small Dog Friendly
Large Dog Friendly
Amenities
Dishwasher
Underground parking
Cable ready
In-suite Laundry
Pet Friendly
Air Conditioning
Guest Suite
Gym
Pet Spa
Dog Park
Luxury vinyl plank flooring
Washer/Dryer
High ceilings
Wi-Fi Throughout Common Areas
Demonstration Kitchen & Dining Room
Stainless Steel Smart Appliances
Outdoor Lounge Patio
Bike Storage & Bike Wash Station
Dog Spa
Concierge and Security
Resident Events and Fitness Classes
Exclusive Resident Perks
Hospitality Suites
Coffee bar with seating area
Lobby Fireplace with seating area
Secured parcel lockers and room
Electronic SMART Thermostat
Change rooms with shower
Multi Sport Simulator lounge room
Roller shades in every suite type
Games Lounge Pool table
Private balconies included in every suite type
Private TV/Media Room
Level 2 Lounge with indoor/outdoor dining areas
Private dining room with seating for 12
Exterior Hot Tub with privacy screen & pergola
3 BBQ' with dining
14 large planter potted trees
Level 33 outdoor terrace with 2 firetables
Utilities
Contacts
Citizen on Jasper Leasing - 5875708745
ONE Properties