BLVD Beltline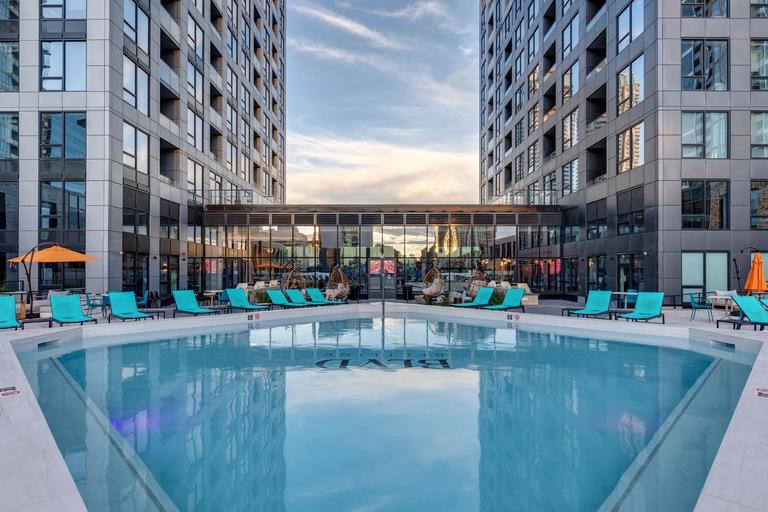 1229 Macleod Trail SE, Calgary, AB, T2G 2K4
$1929 - $2794
1 - 2 Bedrooms
Two stunning high-rise towers encompassing 34 and 37 storeys, connected by an elegant podium base, a true VIP experience where dedicated employees ensure your needs are a top priority. Nowhere else in Calgary can you find yourself living in such a sophisticated, contemporary and well-designed suite, a living experience that surpasses all expectations.
NOW RENTING
Book your tour with our Leasing Team at blvdbeltline.com and savour the VIP experience that lies ahead, rising in the brilliant Beltline neighbourhood.
THE BLVD BELTLINE EXPERIENCE
At BLVD Beltline, we understand the importance of building an authentic relationship with our residents. Our communities are gorgeous mosaics of diverse and distinct individuals, each with their own needs and desires. As such, our professional property management company, ONE Properties, focuses on presenting each resident with their own curated VIP experience. Dedicated employees ensure residents' needs are the top priority and technology provides friction-free living by streamlining communications. Come discover your highly personalized luxury lifestyle experience at BLVD Beltline.
Endless Upscale Amenities
No expense has been spared with the exclusive amenities available at BLVD Beltline. Hone your workout regimen at the two-storey fitness centre, spend the afternoon lounging by the pool, take in a film at the outdoor cinema and so much more.
Event Enhancing Spaces 
Outdoor Cinema
Games Room
Demonstration Kitchen & Coffee Bar
Guest Suites
Fire Lounge
Golf Simulator
Fitness-Focused Amenities 
Sport Court
Two-storey Fitness Centre
Pool
Top Tier Entertainment 
Everyday Conveniences 
Bike Wash & Private Storage
Co-working Space
Workshop & Makerspace
Parcel Lockers
Lifestyle and Services 
In-Suite Maintenance Services
Resident Events
Concierge & Community Manager
Dedicated Property Management
Pet Amenities
Green Building 
TAKE A VIRTUAL TOUR TODAY:  Virtual Tour | BLVD Beltline Apartments
BLVD Beltline is developed and managed by ONE Properties.
Rental Information
| Bedrooms | Bathrooms | Size | Rent |
| --- | --- | --- | --- |
| N1-C | 1 | 631 sqft. | $2116 |
| S1-C | 1 | 628 sqft. | $2166 |
| S1-C | 1 | 628 sqft. | $2191 |
| N1-C | 1 | 631 sqft. | $2131 |
| S1-C | 1 | 628 sqft. | $2201 |
| S1-C | 1 | 628 sqft. | $2231 |
| N1-H | 1 | 584 sqft. | $2251 |
| S1-C | 1 | 628 sqft. | $2201 |
| N1-E | 1 | 535 sqft. | $2029 |
| N1-E | 1 | 536 sqft. | $2009 |
| N1-E | 1 | 536 sqft. | $2009 |
| N1-E | 1 | 536 sqft. | $2009 |
| N1-E | 1 | 536 sqft. | $2029 |
| S1-C | 1 | 628 sqft. | $2301 |
| S1-C | 1 | 583 sqft. | $2366 |
| S1-J | 1 | 573 sqft. | $2121 |
| S1-J | 1 | 573 sqft. | $2161 |
| N1-C | 1 | 631 sqft. | $2191 |
| N1-C | 1 | 629 sqft. | $2031 |
| S1-J | 1 | 573 sqft. | $2141 |
| N1-C | 1 | 631 sqft. | $2086 |
| N1-H | 1 | 586 sqft. | $2251 |
| S1-C | 1 | 628 sqft. | $2321 |
| N1-J | 1 | 574 sqft. | $2136 |
| S1-J | 1 | 573 sqft. | $2141 |
| N1-A | 1 | 576 sqft. | $2064 |
| N1-E | 1 | 536 sqft. | $2029 |
| S1-E | 1 | 574 sqft. | $2051 |
| N1-E | 1 | 536 sqft. | $1989 |
| S1-A | 1 | 537 sqft. | $1961 |
| N1-F | 1 | 539 sqft. | $2014 |
| N1-F | 1 | 539 sqft. | $2034 |
| S1-H | 1 | 596 sqft. | $2161 |
| S1-H | 1 | 596 sqft. | $2206 |
| S1-H | 1 | 596 sqft. | $2141 |
| N1-F | 1 | 538 sqft. | $2014 |
| S1-H | 1 | 596 sqft. | $1991 |
| S1-H | 1 | 596 sqft. | $2181 |
| N2-G | 2 | 902 sqft. | $2679 |
| N2-G | 2 | 902 sqft. | $2704 |
| N2-I | 2 | 902 sqft. | $2759 |
| N2-G | 2 | 902 sqft. | $2769 |
| S2-G.A | 2 | 901 sqft. | $2744 |
| S2-I | 2 | 894 sqft. | $2794 |
| S2-G.A | 2 | 891 sqft. | $2659 |
| N2-G | 2 | 902 sqft. | $2719 |
| S2-I | 2 | 902 sqft. | $2599 |
| N2-B | 2 | 939 sqft. | $2684 |
| S2-G | 2 | 901 sqft. | $2539 |
| N1-F | 1 | 538 sqft. | $1939 |
| N1-F | 1 | 537 sqft. | $1929 |
| N1-F | 1 | 538 sqft. | $1969 |
| S1-H | 1 | 596 sqft. | $2041 |
| S1-H | 1 | 596 sqft. | $2076 |
| S1-H | 1 | 596 sqft. | $2121 |
Pet Policies
Amenities
Balconies
Keyless Entry
Pool
Visitor Parking
Dishwasher
Fridge
Window Coverings
No Smoking Allowed
Air Conditioner
Microwave
Underground parking
Elevators
Social room
Convenience store
Stove
Public transit
Shopping nearby
Parks nearby
Schools nearby
On-site staff
City views
Video surveillance
Outdoor pool
Internet ready
Cable ready
Individual thermostats
Storage lockers
Basketball court
Security onsite
Library
Lounge
In-suite Laundry
Washer in suite
Dryer in suite
Central air conditioning
Concierge
24 Hour Security
Gym
Yoga studio
Media Room
Quartz Countertops
Resident Events
Grocery
Dishwasher in suite
Luxury vinyl plank flooring
Refrigerator
Washer/Dryer
Dog Wash Station
Downtown Calgary
Garbage chute
Roller shade window coverings
Outdoor Patio Lounge
Modern cabinet door fronts with designer pulls
Indoor parcel pending lockers
LEED® Silver Certified targeted building
Secure bicycle storage
Demonstration kitchen and dining area
Communal BBQ
WiFi in Common Areas
Easy to maintain vinyl plank flooring throughout
Games Area
Golf Simulator
Billiards
Fully Equipped Guest Suites
Two-Storey Fitness Centre with state-of-the-art equipment
Outdoor Cinema
Sky Lounge and Terrace - 35th Floor
Co-Working Space
Fire Lounge (with 6 Commercial BBQs)
Workshop
Stampede
Beltline
Bike Storage & Bike Wash Station
Dog Spa
LEED® Silver Targeted Building
Tall Ceilings
Demonstration Kitchen
Electronic Thermostat
Exclusive Resident Perks
Hospitality Suites
Utilities
Contacts
BLVD Beltline Leasing - 8338563807
ONE Properties