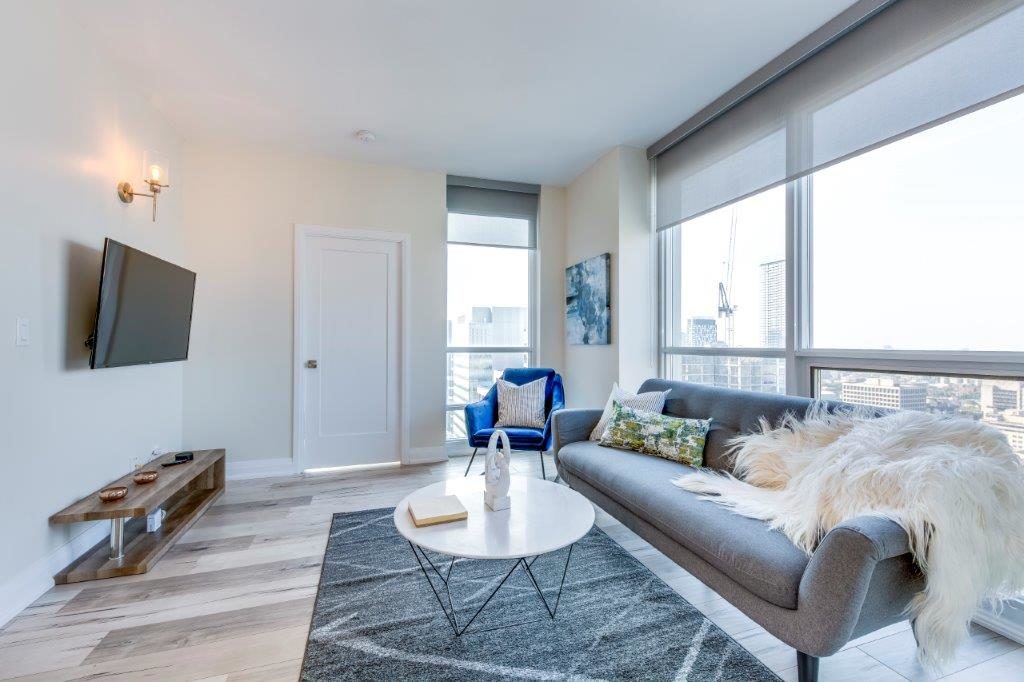 761 Bay Street
,
Toronto
(Centre)
Ontario
,
Canada
M5G 2J8
Les stipulations du bail:
Mensuel
Les dimensions:
1000 (Pieds Carrés)
La description
FURNISHED – 2 BED – 2 BATH – CONDO / APARTMENT – 1000 SQ. FT.
Downtown Toronto Furnished Condo for Rent at College Park South Tower – Exquisite 2 Bedroom, 2 Bath with Hardwood Floors and Breathtaking Views

$5,995 /month
Available: Immediately
Monthly

DOWNTOWN TORONTO
761 Bay Street
Toronto

Enjoy stunning views and terrific styling in this Downtown Toronto Furnished Condo for Rent at College Park South Tower. Featuring an impressive 1000 square feet, 2 bedrooms, 2 bathrooms, beautiful hardwood floors and stunning floor to ceiling windows with views of Queens Park and College Street. This Toronto furnished condo for rent enjoys a beautiful kitchen with pearl glazed subway tiles, quartz counters, white cabinetry, stainless steel appliances and a 2 person breakfast bar. Enjoy the stylish dining area with seating for 4 and find the living room boasting a modern fabric sofa, wall mounted flat screen TV and plenty of space for everyone. Both bedrooms offer an impressive use of space, lots of personal storage space, luxurious bedding and sunlight streaming through. Included in this Downtown Toronto Furnished Condo for Rent at College Park South Tower is in suite laundry, air conditioning, underground parking, hydro, internet, Netflix, premium cable, gas and water. Pets are welcome, please inquire. A one time cleaning fee of $195 applies. Variable rental rates apply and include monthly rentals for $6650 per month and annual rentals for $5995 per month. This terrific building offers excellent facilities including a full gym, pool, sauna and swimming pool. Enjoy close proximity to the Subway Station right at the corner of Bay and College Street and the Subway Station is a 3 minute walk away at Yonge and College Street. Access to the underground mall that links to the subway can be accessed through the underground parking of the building, keeping you warm through the winter. Rent it Furnished is a full-service provider of Toronto Investment Real Estate Services. Our services include leasing, tenant placement, full property management and Investment Real Estate Sales in the Toronto and surrounding areas. Not all properties listed with us are professionally managed by Rent it Furnished. Pricing, terms and availability is subject to change.

to APPLY or VIEW this property with an agent please visit the link below:


To CONTACT US or view SIMILAR PROPERTIES please follow this link:


Rent It Furnished Realty 500 King Street West
Toronto, ON M5V 1L9

Please note:
All information on this ad is accurate as of the date of posting and may change at any time. Please see RentitFurnished.com for updated information on this listing. To workin with a Leasing Agent personally, 100% free of charge, please contact us.
Les conforts
Critères De Locataire
Animaux familier permis
Non-fumeurs permis
Cette annonce locatifs a été fourni par