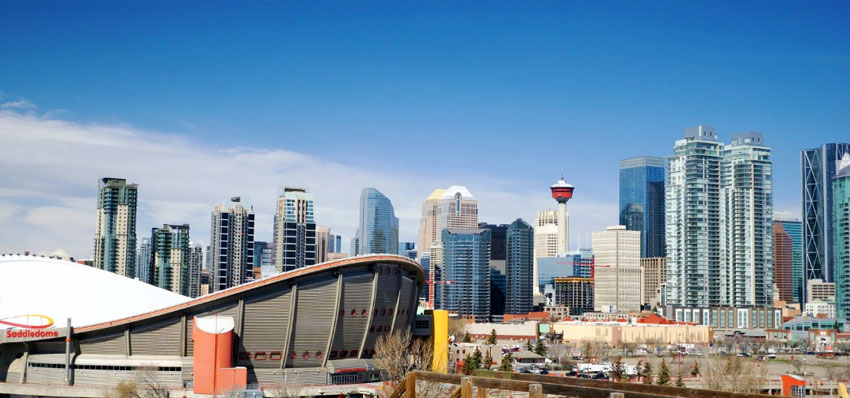 Moving to Calgary?
Calgary is the cowboy town of Canada. While this city is all about the annual Calgary Stampede rodeo festival which happens every July, it's also been ranked year after year as one of the most livable cities in the world. There is so much that Calgary has to offer – and the locals know it! First, Calgary is nestled between the mountains and the Prairies. There are also lots of entertainment options and things to do especially for outdoor enthusiasts. Fun fact – Calgary is a booming business hub and has the largest number of millionaires in the entire country, with many of these millionaires making bank by drilling oil and gas. Even so, Calgary's distinct neighbourhoods still maintain their small-town vibes and the locals here enjoy a mix of business and pleasure sprawling city. 
Who lives in Calgary?
Similar to most major cities in Canada, Calgary is highly diverse with a booming immigrant population. The most prominent communities in Calgary are those of South Asian, Chinese, and Indigenous descent. In general, there are typically two types of people that move to Calgary: people coming for work, or people coming to study at one of the city's post-secondary institutions. 
Calgary is also home to a few celebrities, like millionaire Dragon Arlene Dickinson, Brett Wilson, and former hockey great Theo Fleury, to name a few.   
What's Calgary's culture?
Given how wealthy Calgary is, it won't come as a surprise that the theme across the board when it comes to shopping and restaurants is high-end. That being said, Calgary is far from being a boring money town. Locals here know how to party in style - especially during the annual Stampede. There are lots of unique bars and clubs to visit for those who are into the nightlife scene, including many country-themed bars, along with modern bars and nightclubs. Calgary has evolved a lot in recent years, moving away from its "old Cowtown" image to now being home to many new trendy bars, cafes and bakeries.
What is Calgary's housing market? 
The housing market in Calgary is more affordable in comparison to other major cities in Canada, such as Toronto and Vancouver, and families are likely to find a house, condo, or apartment at a deal. However, it's important to be aware that the economy of Calgary can be volatile as it is dependent on the oil and gas industry. On the bright side, because of how rapidly the city is evolving, there's a neighbourhood for everyone. Young families, singles, retirees, to suburb-dwellers or those who love the city.
Tips for apartment hunting in Calgary
Apartment hunting in Calgary is easy, as it is accommodating to all sorts of budgets. You can expect to find decent apartments with super cheap rent, all-inclusive high-end luxury penthouses overlooking the river, and everything in between. 
If you're looking for high-end apartments, we recommend looking at apartments in downtown Calgary near the Bow River. And if you're looking for something affordable or big enough for a family, there are many townhomes you can rent. These rentals, especially near the University of Calgary, are also great housing options for students. 
Something you should know:
When people think about the west side of the country, Calgary is often overshadowed by Vancouver. However, there's a lot that Calgary has to offer. It's a stunning place to live. There's so much beauty in nature in Calgary, plus the people are incredibly friendly, outgoing and hardworking. We'd say that Calgary is 100% worth looking into or visiting. Who knows? You may end up falling in love with the city and decide to stay! 

 
Getting around in Calgary 
The most popular landmark and tourist attraction in the city would be the Calgary Stampede grounds. However, the locals in Calgary enjoy heading to places like Bowness Park and the Riverfront. These two places are ideal if you ever need a peaceful place to refresh or spend time with loved ones. 
For things to do, check out the entertainment district for nightlife and restaurants to dine at some of Calgary's world-class restaurants. If you're into eateries and wine bars, we recommend exploring the neighbourhoods of Kensington, Eau Claire and Mission. And if you're into retail therapy, check out Chinook Centre and the CORE Shopping Centre. Finally, The Beltline is a great spot if you're looking for some design inspiration! 
Calgary points of interest:
Calgary Tower
The Bow
Bowness Park
The Saddledome
Heritage Park Historical Village
The Skywalk
Lougheed House
Olympic Plaza
Fort Calgary
The Scotiabank Saddledome
Peace Bridge