Arriva - truly beautiful place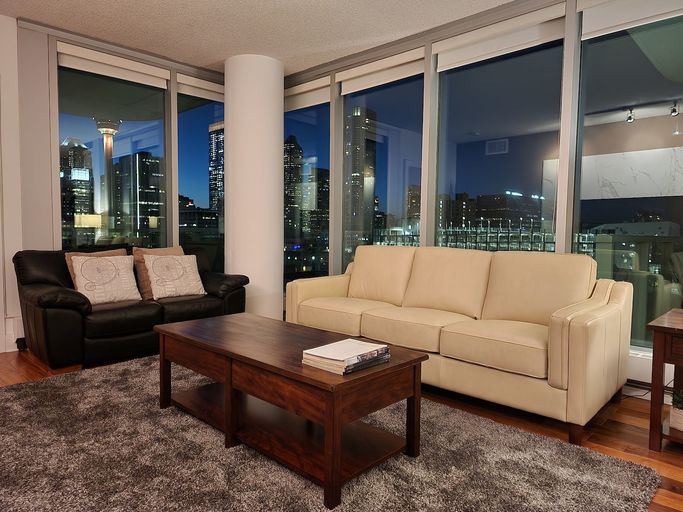 433 11 Ave SE, Calgary, AB, T2G 0C7
$4400
2 Bedroom
One year lease $4,200
Beautiful, large, high ceiling(9 foot) condo suite in prestigious Arriva building,
Breathtaking views from every room: bedroom, living room, dining room, kitchen, actually everywhere,
Two bedroom, two full bathroom and two balconies (one is wrapping around from living room)
Italian Snaidero kitchen with entire series of Miele appliances,
Five burner gas range, gas is included,
Huge white quartz counter top in kitchen,
American walnut hardwood plank flooring in living room and dining, new 75" LG TV.
Central air conditioning, it is included.
Underground, heated and secured parking, free
Plenty of household item, fully furnished,
National music museum ( Studio Bell ), new Calgary central library just two blocks north, and two blocks south is iconic Stampede Park,
A few blocks to world class sport facility, Repsol Sport Centre, you'll enjoy it and meet your professional trainer and a lot of new people,
Boxer and Fitness is just other side of 11 Avenue.
Beautiful Elbow river near by, for you bike ride, walking, jogging,
two blocks to LRT ( Light Rail Train) station.
24/7 concierge,
TRANSLATE with x
English
ArabicHebrewPolish BulgarianHindiPortuguese CatalanHmong DawRomanian Chinese SimplifiedHungarianRussian Chinese TraditionalIndonesianSlovak CzechItalianSlovenian DanishJapaneseSpanish DutchKlingonSwedish EnglishKoreanThai EstonianLatvianTurkish FinnishLithuanianUkrainian FrenchMalayUrdu GermanMalteseVietnamese GreekNorwegianWelsh Haitian CreolePersian

TRANSLATE with
COPY THE URL BELOW
Back
EMBED THE SNIPPET BELOW IN YOUR SITE Enable collaborative features and customize widget: Bing Webmaster Portal
Back
TRANSLATE with x
English
ArabicHebrewPolish BulgarianHindiPortuguese CatalanHmong DawRomanian Chinese SimplifiedHungarianRussian Chinese TraditionalIndonesianSlovak CzechItalianSlovenian DanishJapaneseSpanish DutchKlingonSwedish EnglishKoreanThai EstonianLatvianTurkish FinnishLithuanianUkrainian FrenchMalayUrdu GermanMalteseVietnamese GreekNorwegianWelsh Haitian CreolePersian

TRANSLATE with
COPY THE URL BELOW
Back
EMBED THE SNIPPET BELOW IN YOUR SITE Enable collaborative features and customize widget: Bing Webmaster Portal
Back
TRANSLATE with x
English
ArabicHebrewPolish BulgarianHindiPortuguese CatalanHmong DawRomanian Chinese SimplifiedHungarianRussian Chinese TraditionalIndonesianSlovak CzechItalianSlovenian DanishJapaneseSpanish DutchKlingonSwedish EnglishKoreanThai EstonianLatvianTurkish FinnishLithuanianUkrainian FrenchMalayUrdu GermanMalteseVietnamese GreekNorwegianWelsh Haitian CreolePersian

TRANSLATE with
COPY THE URL BELOW
Back
EMBED THE SNIPPET BELOW IN YOUR SITE Enable collaborative features and customize widget: Bing Webmaster Portal
Back
TRANSLATE with x
English
ArabicHebrewPolish BulgarianHindiPortuguese CatalanHmong DawRomanian Chinese SimplifiedHungarianRussian Chinese TraditionalIndonesianSlovak CzechItalianSlovenian DanishJapaneseSpanish DutchKlingonSwedish EnglishKoreanThai EstonianLatvianTurkish FinnishLithuanianUkrainian FrenchMalayUrdu GermanMalteseVietnamese GreekNorwegianWelsh Haitian CreolePersian

TRANSLATE with
COPY THE URL BELOW
Back
EMBED THE SNIPPET BELOW IN YOUR SITE Enable collaborative features and customize widget: Bing Webmaster Portal
Back
TRANSLATE with x
English
ArabicHebrewPolish BulgarianHindiPortuguese CatalanHmong DawRomanian Chinese SimplifiedHungarianRussian Chinese TraditionalIndonesianSlovak CzechItalianSlovenian DanishJapaneseSpanish DutchKlingonSwedish EnglishKoreanThai EstonianLatvianTurkish FinnishLithuanianUkrainian FrenchMalayUrdu GermanMalteseVietnamese GreekNorwegianWelsh Haitian CreolePersian

TRANSLATE with
COPY THE URL BELOW
Back
EMBED THE SNIPPET BELOW IN YOUR SITE Enable collaborative features and customize widget: Bing Webmaster Portal
Back
TRANSLATE with x
English
ArabicHebrewPolish BulgarianHindiPortuguese CatalanHmong DawRomanian Chinese SimplifiedHungarianRussian Chinese TraditionalIndonesianSlovak CzechItalianSlovenian DanishJapaneseSpanish DutchKlingonSwedish EnglishKoreanThai EstonianLatvianTurkish FinnishLithuanianUkrainian FrenchMalayUrdu GermanMalteseVietnamese GreekNorwegianWelsh Haitian CreolePersian

TRANSLATE with
COPY THE URL BELOW
Back
EMBED THE SNIPPET BELOW IN YOUR SITE Enable collaborative features and customize widget: Bing Webmaster Portal
Back
TRANSLATE with x
English
ArabicHebrewPolish BulgarianHindiPortuguese CatalanHmong DawRomanian Chinese SimplifiedHungarianRussian Chinese TraditionalIndonesianSlovak CzechItalianSlovenian DanishJapaneseSpanish DutchKlingonSwedish EnglishKoreanThai EstonianLatvianTurkish FinnishLithuanianUkrainian FrenchMalayUrdu GermanMalteseVietnamese GreekNorwegianWelsh Haitian CreolePersian

TRANSLATE with
COPY THE URL BELOW
Back
EMBED THE SNIPPET BELOW IN YOUR SITE Enable collaborative features and customize widget: Bing Webmaster Portal
Back
TRANSLATE with x
English
ArabicHebrewPolish BulgarianHindiPortuguese CatalanHmong DawRomanian Chinese SimplifiedHungarianRussian Chinese TraditionalIndonesianSlovak CzechItalianSlovenian DanishJapaneseSpanish DutchKlingonSwedish EnglishKoreanThai EstonianLatvianTurkish FinnishLithuanianUkrainian FrenchMalayUrdu GermanMalteseVietnamese GreekNorwegianWelsh Haitian CreolePersian

TRANSLATE with
COPY THE URL BELOW
Back
EMBED THE SNIPPET BELOW IN YOUR SITE Enable collaborative features and customize widget: Bing Webmaster Portal
Back
Rental Information
| Bedrooms | Bathrooms | Size | Rent |
| --- | --- | --- | --- |
| 2 Bedrooms Condo Unit | 2 | 1450 sqft. | $4400 |
Pet Policies
Amenities
Elevator
Dishwasher
Fridge
Window Coverings
Microwave
Internet Access
On-Site Management
Hardwood floors
Storage lockers
Carpeted floors
Air Conditioning
Balcony
Secure Entry
Tile Flooring
Patio/Deck
Corner unit
Concrete building
Disposal
Laundry - In Suite
Central Vac
Alarm
Zero-Step Entrance
Wheelchair Access
Utilities
Contacts
RF-21311